In the News this Week: Hate Crime
Library Material on Trending News. Get the Facts!
The Uniform Crime Reporting Program (UCR) released its latest compilation of bias-motivated incidents in the nation. The data was submitted by law enforcement agencies.
In 2017, there were 8,493 reported victims of single-incident bias. 59.6 percent of them were targeted because of race/ethnicity/ancestry bias. 20.6 percent were targeted because of their religion. 15.8 percent were targeted because of their sexual orientation. 1.9 percent were from disabilities and 1.6 percent were gender identity bias.
The results go on to state percentages of hate crimes involving intimidation, rape, human trafficking and aggravated assault.
Of known offenders (identification from law enforcement), 50.7 percent were white, 21.3 percent were African-American. Of the known offenders for whom ages were recorded, 83.0 percent were 18 or older.
It is sad that hate is so prevalent in our society. Why is that? Check out our resources on the subject.
FBI Releases 2017 Hate Crime Statistics
Book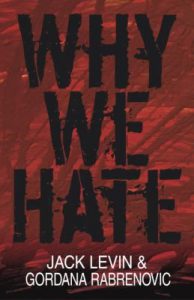 Available at the Prescott and Verde Valley Campus Libraries
Report
Report to the Nation: Hate Crimes Rise in U.S. Cities and Counties in Time of Division & Foreign Interference
Available through the Homeland Security Database