Audiobook Review: The Chestnut Man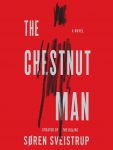 The Chestnut Man by Søren Sveistrup
OverDrive audiobook review by Jeannette
"He's disgusted, he can't see how many there are, but there are more than he can count with the naked eye, Chestnut dolls – then the axe strikes his jaw, and everything goes black."
In this Nordic Noir thriller, a serial killer is on the loose in Copenhagen. His calling card is a 'Chestnut Man', a doll made of matchsticks and two chestnuts.
When the body of a brutally murdered and mutilated woman is discovered, the Copenhagen Police assign detective Thulin from the Homicide's Murder Squad and Mark Hess, a liaison officer, to investigate. The detectives find themselves at the shocking crime scene of a 37-year-old mother, one of her hands is missing and a Chestnut Man has been left behind.
As Thulin and Hess work to figure out what the Chestnuts Man's significance is, another mutilated woman's body is discovered, this time both hands have been 'amputated' and again a doll has been left behind.
Forensic testing on the doll reveals the fingerprint of Kristine, a missing girl, presumed murdered a year earlier. Although Kristine's body has not been found, her murderer has confessed to kidnapping and dismembering her body and is currently serving time in a psychiatric facility. Could Kristine still be alive, could she be the key?
As the bodies continue to pile up, the plot becomes increasingly complex as the author entwines the investigation with the personal stories of the character's involved. Thulin and Hess are no closer to finding the killer but may finally have a lead on how the victims are chosen. Is it possible that the murderer is able to remain under the radar by hiding in plain sight?
Reading the book reminded me of putting together a jigsaw puzzle. The conclusion was slowly revealed though many twists and turns and none of the individual pieces fell into place easy or fast. Which is, of course, the way I like it.
The detectives make a rather unlikely pair, which is probably why it works for the story. Thulin the single mom and rising star in the police force, Hess the outsider sent to Copenhagen as punishment for making one to many errors on the job. The dark and brooding Hess, who becomes obsessed with the case is the perfect contrast to Thulin's cool and calm personality.
On a cautionary note, the story does deal with child abuse.