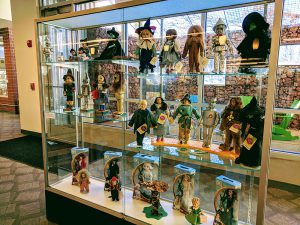 A variety of scenes & sizes of beautiful oil paintings by one of our own YC staff: Paula Gregory. Paula's artwork will be on display from Jan 16 – Feb 16, 2018. Paula Gregory (SanSoucie) grew up drawing and painting animals from a young age, even attending a community class at age 7 to paint with seniors. She is grateful to have been mentored under well-known artists Fred Lucas and Ken Ottinger. Her mediums range from work in airbrush, acrylics, oils, colored pencils, clay, and cement. Some of her work has earned awards. Several pieces are also on display at the Southwest Wine Center on the Verde Campus. For Paula, painting brings pleasure both in the creation and enjoying the finished product's 'happy place'. A new endeavor is creating Cement sculptures of pets after they've passed to mark their final resting place. You can view her work online at http://www.artbypaula.com or visit her in person in the Computer Commons (2nd floor of Building 19) where she works as a computer instructor.
Her mentor Ken Ottinger, who teaches art at Community Ed, has some of his paintings on display as well until Jan 26, 2018.
A Wizard of OZ doll collection is on loan from library staff member Ginney Bilbray.