April has SHOWERED the YC Prescott Campus Library with some spectacular displays!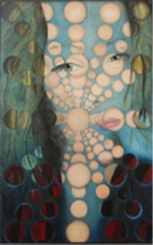 Dana Cohn's Oil and Acrylic painting students have brought some of their outstanding semester works for our perusal, and these paintings are on the stacks at the front entrance of the library. You need to see the wonderful work these students have done. The display is changed as the students add newly finished assignments during the semester.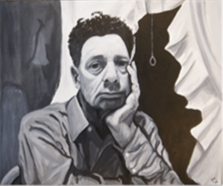 We have an antiques display on loan to us by Judy Scroggs, one of our fantastic library volunteers, in the glass case to the left of the front entrance. Featured in this case are wood carvings by Appalachian North Carolinians. They were part of a Folk School, which was organized by visitors with locals who wanted to create a place where these folks could work on their arts and crafts and sell them in order to better their lives.
Dana Cohn's (Oil/Acrylic painting classes) oil painting at the front entrance to the library is titled "Annunciation on Earth", and Carl Dahl's (sculpture classes) horse head out of clay and wire is on the stacks in the middle of the library, across from the circulation desk.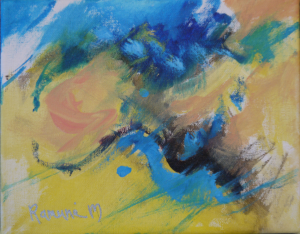 Ken Ottinger's Adult Education class titled "Formless Painting" is represented in small abstracts by some of his students.
Circulation staffer Bud Garso has loaned us some of his action figures, which are on a stack across from the circulation desk.
April is Poetry month, and the rolling cart in the library living room has a display of some of our collection of poets and poetry. Check one out !!