Book Review: Seoul Food, Korean Cookbook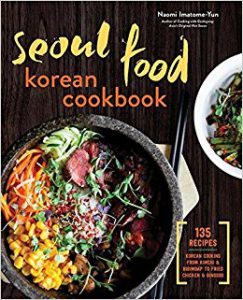 This cookbook, which we recently acquired in the Prescott campus library, features 135 recipes of Korean cooking, which is enough to keep you in meals for at least a month or two. Such recipes as Sweet and Spicy Dipping Sauce, Stuffed Cucumber Kimchi, Pickled Cucumber, Ramen and Spicy Rice Cakes, Seasoned Baby Bok Choy, Soy Sauced Potatoes, Spinach and Clam Soup, Short Rib Soup, Mixed Rice with Vegetables, Spicy Sliced Pork, Korean Fried Chicken, and Grapefruit Soju Cocktail are included, with much, much more to tempt you. I'm getting hungry just looking at these recipes!
Part one is called "The Art and Seoul of Korean Cuisine, and part two contains the recipes. All are in both English and Korean. The author encourages the reader to be creative and to try variations of the listed recipes – with variation tips she includes. She also includes pictured chili peppers at the beginning of each recipe, which indicate either mild, medium, or hot.
According to Imatome-Yun, Koreans take their health very seriously, and they believe the perfect food ratio for a meal should be 7 to 3, or 7 parts vegetables and grains to 3 parts meat and proteins.
The book is attractive – well put together, and easy to cook your way through! Check it out!!