Audiobook Review: The Cold Dish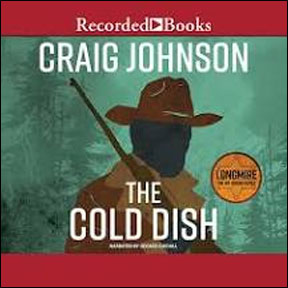 Cold Dish by Craig Johnson
RBdigital audiobook review by Jeannette
Mystery is not my usual genre, but since I had the opportunity to hear the author speak at Yavapai College, let me tell you he is a very funny guy, I thought I should give this book a try. Wait – before you decide not to read the review or try the book because you've seen the TV series, Longmire, and didn't like it, I promise you the book is nothing like the series.
When a young man is found dead near the Cheyenne reservation everyone believes his death was a hunting accident. Upon closer examination though discrepancies and doubts emerge.
This case takes Sheriff Walt Longmire of Absaroka County, Wyoming back to another case that has haunted him for years. The dead man was one of four high school students convicted of assaulting a Native American girl. Even though all four men were found guilty they were given suspended sentences. When a second man, also a party of that quartet that only had to serve probation, turns up dead, it is pretty obvious that someone is out for vengeance. Plenty of people have cause for wanting these deaths, but who had the guts to do the deed? The list of suspects is long! And who might be the next target on the list of the killer?
As fear mounts, so does the tension between the white population and the Native American community. Who decided, and why now; years later, to become a vigilante and apparently not blink an eye to see justice served and administer a punishment more fitting the crime? The sheriff accepts that he probably knows the killer, which doesn't exactly make his job any easier. Included in this long list of potential suspects is his lifelong friend, Henry Standing Bear.
Aiding in the investigation is Victoria Moretti, Walt's Deputy Sheriff. She is a perfect match, with her uncensored sharp tongue, for the easygoing and likeable Walt, with his self-depreciating humor. There are some really funny moments between those two. Despite the fact that Henry Standing Bear is on the suspect list, he is also a part of the investigation team and serves as a liaison between the Natives and Walt. The former harboring an obvious resentment towards the white judicial system. Henry Standing Bear with his dry sense of humor, he calls Thanksgiving 'Thankstaking', ads some insight to the Native American points of view.
Sheriff Longmire means to see that 'revenge, a dish that is best served cold,'is never served at all.
This was an easy and entertaining audiobook, despite the heavy topic, with a lot of witty dialog between all the characters and to top it off it had a bombshell ending.
On a final note, the narrator, George Guidall, is amazing. He nails the characters voices so well that I dare say that listening to the audiobook was actually more fun than reading the book itself, something I don't say very often. 🙂