Magazine Highlight: Family Handyman
FAMILY HANDYMAN
Patio Planter
Author & Woodworker, Spike Carlson demonstrates how to build a raised bed planter: "A mini garden with fresh veggies – steps from your kitchen".
For those of us who have cats & various other critters visiting our gardens, Carlson's gorgeous creation looks like it could prevent unwanted presents & presence! Since I am one of those lucky recipients, I immediately wanted to find out how hard it might be to build this planter.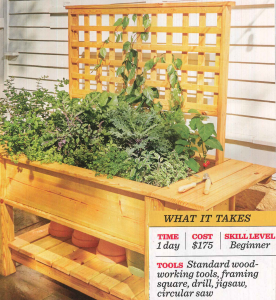 Right there on the first page, I saw a box labeled, "What It Takes" with the Time, the Cost, the Tools needed, & the Skill Level: BEGINNER. Now we're talkin'! I do have to admit that when I saw "standard woodworking tools" in the list of tools, I was a little apprehensive, but as I turned the pages, the illuminating photos clearly displayed what those standard tools would be.
Mr. Carlson demonstrates how to build this patio planter with 8 steps of construction photos and includes other pertinent information, such as a materials list, a photo of the plans, a cutting list, & written instructions with the step by step photos.
I'm excited about this DIY project and it looks like something I could manage (or something I could talk someone into doing for me)! Check it out and see if you would like to build one too!
"Patio Planter" by Spike Carlson, Family Handyman, April 2017, pp. 44-49. Located at the Prescott Campus Library.