Film Review: The Great Buster, A Celebration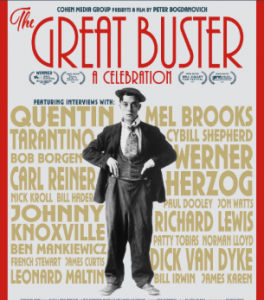 A few years ago, my husband and I began to watch our way through American Film Institute's list of Top Films. Never having a keen interest in silent films, we kept putting off watching the silent films on the list. However, The General, listed in the Top 20 at the time, was a true treasure to watch. I was truly amazed by Keaton's directing, acting, dangerous stunt work (especially on The General, an actual locomotive) as well as the full-scale Civil War battle scenes. I was won over and promptly added the film to our DVD collection.
So, I was excited to see The Great Buster: A Celebration make its way to the Yavapai College Verde Library's collection. Featuring commentary from film and comedy legends as well as longtime fans, the documentary begins with Keaton's childhood as a star in a well-known family vaudeville act. Purportedly nicknamed "Buster" by family friend Harry Houdini, for his ability being able to take a fall, he honed his acting, comedy, and acrobatic skills by the time he appeared in films in the early 1900's. The documentary features a run through of his greatest works in the 1920's. The Great Buster also covers his disastrous 1928 MGM contract, which he called the worst decision of his life, alcoholism, and 2 failed marriages. In 1940, he married Eleanor Norris whom he credited with saving his life and salvaging his career. While Keaton's career never fully rebounded after his MGM contract ended, he continued in film and later television until his death in 1966. His mark on film and history will never be forgotten.
Please check out The Great Buster: A Celebration and other newly added documentaries, films, and books at the Verde Valley Library!