Audiobook Review: The Whisper Man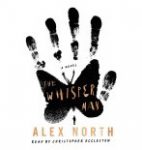 The Whisper Man by Alex North
RBdigital audiobook review by Jeannette
Tom Kennedy and his seven-year-old son Jake move to the little village of Featherbank, hoping for a new start after the death of Jake's mother and Tom's wife. At first glance the village looks like an ideal place to restart their lives. The town however has a dark past; fifteen years ago, five boys were kidnapped and murdered by the serial killer Frank Carter nicknamed the 'Whisper Man.' Their bodies were all found, except the last victim whose body was never discovered.
Just as Tom and Jake try to settle into their new home and work on their strained relationship, where Jake refuses to confide in his father and Tom struggles to connect with his son, another boy vanishes. Now Jake, a vulnerable and creative kid with imaginary friends instead of real ones begins to act really strange.
This latest disappearance bears an unnerving resemblance to Frank Carter's crimes. Since Carter is in prison old rumors reignite that he had an accomplice. Or is a copycat crime? Carter in the meantime is reveling in his notoriety and reputation, playing mind games with detective Willis, the man who caught him.
It is now up to Detective Willis and Detective Amanda Beck to find the missing boy before it is too late. Detective Willis is determined not to fail again.
Tom and Jake find themselves in a twisted nightmare, one that places Jake in the gravest of dangers. Where the legend of the 'Whisper Man', a nickname acquired due to the sinister method of whispering at the doors and windows of his victims in order to lure them outside, grows ever stronger.
While this is a story about abduction and murder of children, it is also much deeper than that. It shows how grief can alter our daily actions, our thought processes, and how we connect or disconnect with those who need us most.
It was a creepy and simultaneously captivating story.
The author spins multiple strains of tales throughout the book with twists that I was unable to predict. Whenever I thought I was on a right track, it turned out I was not. Not even close, most of the time. Even though this thriller's plot is written from multiple perspectives with a variety of characters it manages to avoid confusion very well. Alex North was able to create a chilling sensation but thankfully avoided horrific graphic scenes.