Audiobook Review: The Marriage Lie
The Marriage Lie by Kimberly Belle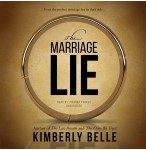 RBdigital audiobook review by Jeannette
Iris and Will Griffith's marriage is as close to perfect as it can be, a large house in a nice Atlanta neighborhood, rewarding careers and the excitement of trying for their first child. But on the day that Will leaves for a business trip to Orlando, Iris's perfect world comes to an abrupt hold.
A news report. A plane crash. Her husband's name. A flight that he wasn't even supposed to be on. An impossibility. When Iris receives the phone call from the airline confirming that her husband was on board the flight that crashed killing all passengers, Iris's life takes a drastic turn. Why was Will on a flight going to Seattle not Orlando.
At first, a grief-stricken and confused Iris is convinced that it's all a huge misunderstanding, she refuses to accept that Will lied to her and that he is still alive somewhere. But, as time goes on and there is still no sign of him, she reluctantly accepts that he is gone. But she wants answers. Why did Will lie about where he was going? What is in Seattle? And what else did he lie about?
Iris sets out on a determined quest to find out what her husband was keeping from her and learns that the man she married was not the man she thought he was. As she keeps digging further into her husband's past, she discovers there was a whole lot more to Will than she could have ever imagined. As she unravels the truth, she finds herself in a web of secrets, lies, betrayals and inconsistencies that leave her wondering if there is anyone she can trust at all. She begins questioning her entire marriage, and the more she discovers, the more she learns about Will, the more she puts herself in danger.
This psychological thriller has as easy writing style that makes it easy to fall into the story. The characters are well developed, and the storyline kept me wondering what would happen next. It is a medium paced novel full of grief, despair, lies, deceits, secrets and suspense. The story is filled with twists and turns right up until the conclusion with an ending that I did not expect.