In the News this Week: Mummies
Library Material on Trending News. Get the Facts!
The Egyptians were not the only people who mummified the dead. Forensic scientists worked for months to identify the remains of a 300-year old priest from Austria. He was parish priest Franz Xaver Sydler von Rosenegg who lived from 1709 to 1746. The corpse was not decayed after being buried hundreds of years ago.
The deceased was buried in a crypt and stuffed with cloth, wood chips and branches. Experts were able to tell the priest was well nourished, but the right lung showed advanced tuberculosis. Abrasions on his teeth show he may have smoked a pipe for a long period of time.
While the crypt had suitable conditions for mummification, there are other ways to mummify a body. Check out our resources on this macabre topic.
Mummy mystery: How 300-year-old corpse of a lederhosen-clad priest 'miraculously' mummified itself
Book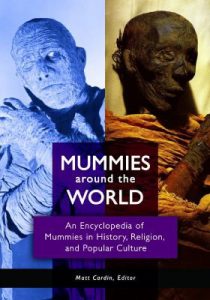 Available at the Prescott Campus Library
Article
Augenstein, S. (2015). Bronze-age mummies found in britain. Forensic Magazine, Available in our ProQuest Research Library Database